Proposed Allergy Protocol for Airlines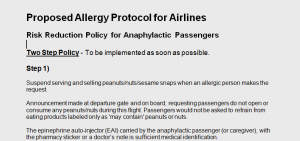 Risk Reduction Policy for Anaphylactic Passengers
Two Step Policy – To be implemented as soon as possible.
Step 1)
Suspend serving and selling peanuts/nuts/sesame snaps when an allergic person makes the request.
Announcement made at departure gate and on board, requesting passengers do not open or consume any peanuts/nuts during this flight.  Passengers would not be asked to refrain from eating products labeled only as 'may contain' peanuts or nuts.
The epinephrine auto-injector (EAI) carried by the anaphylactic passenger (or caregiver), with the pharmacy sticker or a doctor's note is sufficient medical identification.
Allow pre-board in order to speak with In-Charge Flight Attendant and to wipe down seat area.
Require flight crew to be trained and authorized to administer an epinephrine auto injector.
Add an 'Allergy Notification' on the Passenger Information List (PIL) to alert staff to expect the allergic passenger.
Flight Booking Notice: "Please be prepared for possible food restrictions on your flight – in support of our anaphylactic passengers."
Step 2)
For passengers allergic to foods other than peanuts/nuts, with 48 hours' notice, the airline will make every effort to come to an agreeable arrangement.
Steps 1) & 2)
Flight crew will be trained never to refuse boarding to a passenger solely on the basis of that person's food allergy and anaphylaxis risk.
Take Action – Circulate the Petition on Reducing the Risk for Anaphylactic Passengers
The Canadian Anaphylaxis Initiative (CAI) is a network of Canadian families committed to raising awareness of anaphylaxis on Parliament Hill and with federal government officials.